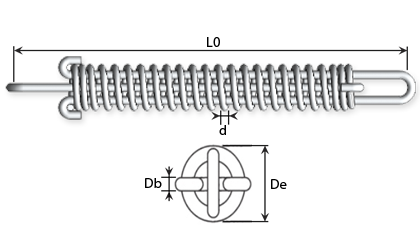 Draw bar springs for fast delivery!
Draw bar springs are stock items and are available for fast delivery. Buy your Draw bar spring from our online shop now!
A draw bar spring consists of one compression spring and two brackets. With one bracket at each end, the compression spring converts into an extension spring. The brackets are much stronger than the regular loops on extension springs. However, they require more space, and they are considerably more expensive.
d


Wire diameter (in)

De


External diameter (in)

L0


Unloaded length (in)

Ln


Max. loaded length (in)

Sn


Maximum travel (in)

Fn


Maximum load at Ln (lbs)

R


Spring constant (lb/in)

db


Wire loops (in)

SKU
Tech Drawing
Compare
Read More
3D CAD
Stock
View prices - Add to Cart
0,0394
0,2874
1,5748
1,9528
0,3780
8,9024
23,4687
0,0394
BF-10980

-

0,0394
0,2874
1,9685
2,5197
0,5512
8,8125
15,9313
0,0394
BF-10981

-

0,0394
0,2874
2,3622
2,9685
0,6063
5,3729
8,8507
0,0394
BF-10982

-

0,0630
0,5551
3,1496
4,4882
0,1339
26,3026
19,7
0,063
BF-10983

-

0,0630
0,5551
3,9370
5,9055
1,9685
26,7523
13,3617
0,063
BF-10984

-

0,0630
0,5551
4,9213
7,9134
2,9921
27,2019
9,022
0,063
BF-10985

-

0,0787
0,8661
5,9055
8,5827
2,6772
31,6981
11,7058
0,0787
BF-10986

-

0,0787
0,8661
6,8898
10,8268
3,9370
31,4733
7,9942
0,0787
BF-10987

-

0,0787
0,8661
7,8740
12,0472
4,1732
26,7523
6,3954
0,0787
BF-10988

-

0,0787
0,8661
8,8583
14,7638
5,9055
31,6981
5,3675
0,0787
BF-10989

-
Material
Stainless steel:
DIN 17224 AISI 302 WERKSTOFF NO. 1.4310
Working temperature between -200 ºC and +250 ºC
Terminology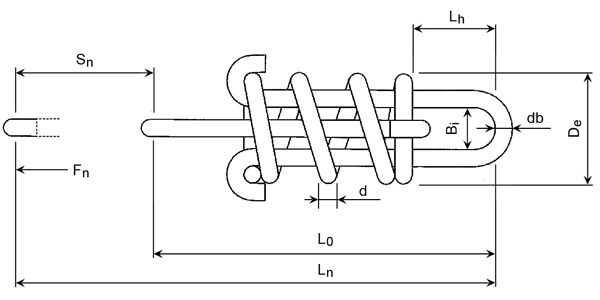 db
=
Wire in mm (bracket)
De
=
External diameter in mm
Bi
=
Internal diameter bracket
Lh
=
Bracket height internal
L0
=
Unloaded total length measured internal in brackets