Constant force spring for fast delivery!
Constant force springs are stock items and are available for fast delivery. Buy your Constant force spring from our online shop now!
Constant force springs exert an even resistance both when extended and when recoiling.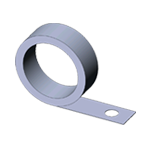 Constant force spring - no house
This type of constant force spring is made from strips of stainless steel (type 301), and the spring will maintain a constant force over its whole extension. The force differs, depending on whether it is measured on the strip's outward movement or inward movement. It is recommended that there should be a minimum of 1 1/2 turns of the spring remaining on the mandrel at full extension.
Go to table