Compression Springs - Spring Steel / Music Wire - Range D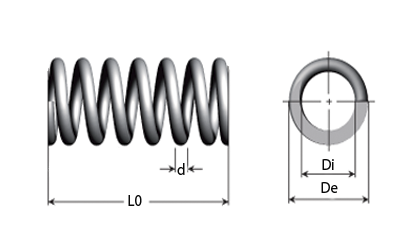 Series D is designed for use in testing. If you are uncertain about what length you need, you can find a spring you can cut to the desired length here. Please note that we are unable to define a maximum force, as it depends upon the length.
d


Wire diameter (in)

De


External diameter (in)

Di


Internal diameter (in)

L0


Unloaded length (in)

SKU
Tech Drawing
Compare
Read More
3D CAD
Stock
View prices - Add to Cart
0,0157
0,1417
0,1102
39,3701
19010

-

0,0248
0,1823
0,1327
39,3701
19040

-

0,0315
0,2283
0,1654
39,3701
19060

-

0,0315
0,2795
0,2165
39,3701
19070

-

0,0630
0,4567
0,3307
39,3701
19120

-

0,0689
0,5512
0,4134
11,8110
24

-

0,0787
0,5906
0,4331
11,8110
25

-

0,0787
0,6693
0,5118
11,8110
27

-

0,0866
0,5906
0,4173
39,3701
19160

-

0,0886
0,7087
0,5315
11,8110
28

-
Material
DIN 17223 C-Wire WERKSTOFF NO. 1.200
Working temperature between -30 ºC and +120 ºCProduced in spring steel for use in dry environment. The spring steel is not rust-resistant. If needed for use in humid/wet environment, choose from our collection of models in stainless steel here.
Spring constant
There are no spring constants for this range of springs. These springs are designed to test and try where the springs can be shortened to achieve the desired length. The spring constant depends on the length, so we are unable to provide a general spring constant.
Winding direction
Normally right-handed
Misc.
If the springs are compressed to Ln, the spring will set itself. It will then not return to its original length, L0.
Always dimension a spring so that it delivers the desired travel and force with as little exertion as possible. This prolongs the service life of the spring. Applying maximum load to the spring will shorten its service life and cause it to become permanently distorted.
These springs are intended for tests and experiments. You can cut them to the required length. The ends of the compression springs should be closed after the desired length is found.